On New Year's Day, 1952, (Karl) Heinz Krüger stepped off a steamer, the American Harvester, onto Pier 26 just beneath the Brooklyn Bridge in New York City.  Coming from Chemnitz, a town in the state of Saxony, Germany he was to live with his father in Elizabethtown, Pennsylvania. Eight months later he married Anna Elizabeth, herself a daughter of German and Swiss immigrants who helped settle southeast Pennsylvania in the early 1700's. 364 days later, on August 29,1953, the first of six children was born... and that was me!
My first recollections are of life as a little boy living with my parents in Lancaster, Pennsylvania - the heart of the Pennsylvania Amish Country. When I was almost 5, we moved to our first house in the Lancaster suburbs where we remained for 10 years. Even as a small child, my interest in audio and music was apparent. Between wiring the house to eavesdrop on my parents and building an AM transmitter to broadcast music and self-authored soap operas, I kept myself busy with those special things that I love... things I still enjoy as a 67 year-old today!
When I was 6, I began piano lessons. My love for music really kicked in when I got to the point that I could pick up most any music and play it - and learned I could make money in the process! By the time I was 15 and a half, I was studying classical organ and playing the pipe organ in church. In high school, I played French horn in orchestra, concert band and marching band. I also sang in the Hempfield Singers, my senior high chorale and County Chorus. In the course of that year, Duke Ellington came to our school. He had written a jazz musical based on Adam and Eve and the Garden of Eden. As we all sat there and listed to him talk about his work, he mentioned that he needed a narrator. I was known for my deep and resonant voice and also my AM radio station I had put together, so everyone said, "Barry, Barry!" Duke turned to me and said, "Here, read this for me". I did and he said, "Oooh, you have a pretty voice!". On June 27, 1971 I was a narrator for Duke's "Sacred Concert" at Long's Park Amphitheater, Lancaster, PA.  That was the official beginning of my voice-over work.
Just before my 18th birthday, I moved to Tulsa, Oklahoma to attend college at Oral Roberts University. My great-aunt, Kathryn V. Slough, to whom I was very close, was a "partner" of Oral Roberts and had sent off for ORU enrollment information. She had it mailed to my house without my knowledge. When I received the brochures I somehow knew that was where I was headed. The next 23 years I spent at ORU. Even though my major was German language - go figure?!, my love of audio and music was ultimately realized.  In 1973, I became Assistant Audio Engineer for Mabee Center, a 16,000 seat facility on the campus of ORU. I became deeply involved with the Oral Roberts television shows and national television specials working with such personalities as Roy Clark, Natalie Cole, Pat Boone, Jerry Lewis, The Lennon Sisters, Robert Goulet and Mel Torme, to name just a few. By 1978, I was Audio Manager for the Oral Roberts Ministries. My duties involved producing and engineering record albums for Richard Roberts as well as the University, mixing and engineering all ministry broadcasts, doing the majority of announcing for the television and radio shows and, in my last few years, composing original music for television themes and commercial
While at ORU, I met Diana Lynn Franklin, whom I married in 1974. We had 4 children, Barry Kristofer, Julie Anna, Kara Lynn and Kirk Franklin. We separated in 1991 and divorced in 1994. Today, Barry and his son Kristofer Barry (my first grandchild), live in Bixby, OK.  Julie is married to Vincent J. Sottosanti Jr. of Tuscon, Arizona where she serves in a legal capacity with the Federal Government, and is mother of my granddaughters Giada Marie, Gemma Violet and Gina Catherine. Younger daughter Kara lives in Glenpool, Oklahoma and is the mother of Anna Lynn and Cheyenne Hazel. Kirk graduated from high school in May of 2003, works in Tulsa and was married to Sally Cockrell on October 7, 2016.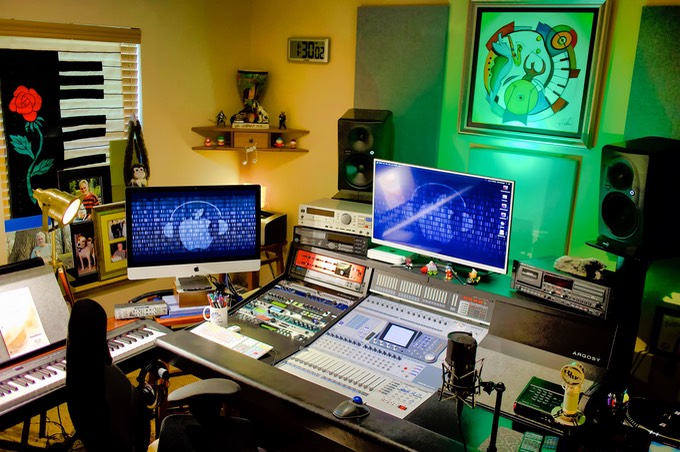 In 1989, I began to assemble a well-equipped home studio and created TSR Productions (The Sound Room Productions) now named "Hudson Bay Media".  Production has included corporate video music scoring, record albums, performance tracks, voice-over work, and digital video productions for a variety of clients. I employ Avid pro audio systems (ProTools) exclusively in digital studio and remote recording for audio, and Mark of the Unicorn (MOTU) "Digital Performer" for music composition. For my personal photography, I use my Canon EOS R and Canon 90D with various lenses and accessories.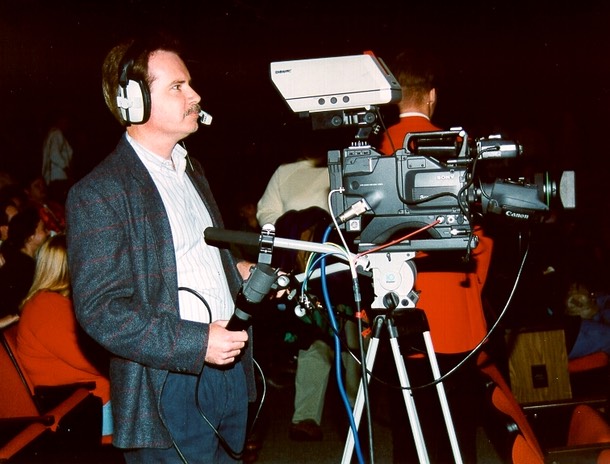 In 1994, I made a career move and began working for CITGO Petroleum Corporation as Special Projects Audio / Video Director.  In December of 2001, I became Audio/Video Production Manager.  I managed the audio/video and photography department as well as produce, engineer and announce for CITGO's radio commercials, television commercials and training videos. 
My special love continues to this day.... I also still play the organ - From time to time, I compose church music for special occasions including "Gift of Gladness", an Advent / Christmas hymn written in 1999, Open Hearts, Open Arms and Open Doors for the United Methodist Church in 2000, "We Know What Matters" for the Tulsa Area United Way in 2003 and "God Most Wise" in 2009.
In March of 2005 I transferred from Tulsa, my home for the past 34 years, to Houston with my company, CITGO Petroleum Corporation.  I purchased a 2 story Windsor bungalow in Katy, just west of Houston, where I enjoyed the company of "Hudson Bay Explorer" and "Murphy's Little Boy", my two Jack Russell Terriers.  These two packages of energy were bred by Linda Fields, a breeder of champion Parson Terriers in Webbers Falls, Oklahoma.  Hudson was the great-nephew of the TV detective dog, "Wishbone".  Sadly, Hudson passed away in my arms, July of 2015 and Murphy passed away in March of 2019 at 14 years old. Shortly after we acquired two new crazy Jack Russells, DC Edison and AC Tesla from Texahachie Jacks in Waxahachie, TX, about 20 miles southeast of our home.
In April of 2007, I applied for and was chosen to serve as organist of New Hope Presbyterian Church in Katy, TX and Director of Music Ministry in January of 2009. 
In the Fall of 2007, I traded my Ahlborn-Galanti SL300 classical organ for a state-of-the-art Ahlborn-Galanti AG2400.  What a joy to play on this beautiful instrument.  I sometimes forget that it's not a pipe organ, because it so accurately reproduces high-quality pipe organ digital samples from around the world.  
When we moved to our new home in Grand Prairie, TX, I worked with the builder and organ installer to provide a special installation for the organ speaker cabinets.  The room is 26 feet high and the cabinets were installed and wired in about halfway up.  The second floor has a Juliet balcony between the cabinetry allowing an awesome acoustical experience.  In addition, I installed a European custom-made Zimbelstern to augment the organ in December of 2012.
In May of 2011, I retired from CITGO Petroleum Corporation after almost 17 years of service.  I currently serve as Music Director of DeSoto Presbyterian Church in DeSoto, TX as well as a contract work for CITGO and other freelance clients. My studio has been re-assembled in the new Grand Prairie home at beautiful Joe Pool Lake on Grand Peninsula...
       The tradition continues….